Uncle Steve's Christmas Tree Farm
It's All About The Trees
Our History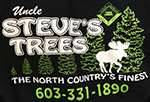 Located in the beautiful Northeast Kingdom – nestled on the northern border of Vermont and New Hampshire, just a stone's throw from Canada – Uncle Steve's Christmas Trees is owned and operated by Steve Gagnon.
Steve started in the Christmas tree farming business as a laborer at a neighboring tree farm back in 1999. While working hard learning what's involved in "working" a Christmas tree farm, Steve also paid close attention to the "business" end of Christmas tree farming.
In 2005, with the confidence and knowledge gained through this experience, Steve took the big step of purchasing his first 50 acres of Christmas tree farm. Uncle Steve's Christmas Trees was born! Uncle Steve's Tree Farm has since expanded to over 250 acres... and continues to grow.
Here at Uncle Steve's Christmas Trees, our philosophy is to provide an outstanding, quality product at an exceptional value. We strive for superiority in all aspects of our business... all the way from caring for our seedlings and nurturing our trees, to offering the best in customer care.
Our Trees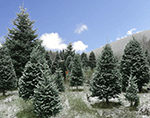 Uncle Steve's Christmas Tree Farm is loaded with premium Christmas trees and contains the finest Balsam Fir and Balsam-Fraser Fir Hybrids in the North Country.
Balsam Firs are native to the Northeast and are widely considered to be the "classic" Christmas tree. This species boasts several desirable properties: dark-green appearance; long-lasting needles; and attractive symmetrical shape. They also retain their pleasing fragrance throughout the holiday season.
Fraser Firs are renowned for their unique blue-green color and the ability of their branches to support heavy ornaments.
Balsam-Fraser Fir Hybrids exhibit favorable characteristics of both species. They exhibit a blue tint on the underside of the needles reminiscent of the Fraser Fir, and they also boast excellent needle retention, strong branches, and the treasured long-lasting Balsam Fir fragrance.
In order to guarantee you the best looking, highest quality trees, and to ensure that you will be truly satisfied with our product, Uncle Steve personally selects and tags each tree to be harvested.
By purchasing directly from our Christmas tree farm (instead of a middle-man Christmas tree broker), you are guaranteed the freshest possible product at a great price.
Unlike other Christmas tree growers, we will not begin to harvest your trees until November 15th or later (unless otherwise requested). However, the quantity of trees ready for harvest each year is limited, so call early to reserve your trees.
Specialty Trees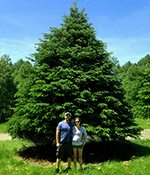 Uncle Steve realizes that it's hard for homeowners to find extra tall Christmas trees for rooms with high ceilings. The reason tall Christmas trees are so hard to find is because most Christmas trees are grown at actual Christmas tree "farms" where plantings are staggered and trees are harvested every 6 or 7 years when they are tall enough for most homes.
Uncle Steve's Christmas Tree Farm is not a "farm" in the above sense, but an expanse of over 250 acres of beautiful Christmas trees of all sizes. Because of this, we are uniquely able to cater to homeowners and wholesale buyers looking for Christmas trees for cathedral ceilings, vaulted ceilings, or any featured display. Contact us for more info about our extra tall Christmas trees.
Uncle Steve also features select "White House Worthy" Christmas Trees (a pet project of Uncle Steve's over the years). These trees range up to 45 feet in height and live up to their billing. Their statuesque beauty make them worthy of gracing The White House lawn… or any deserving place of honor. Click here for more information about our White House Worthy Christmas trees.
Our Wreaths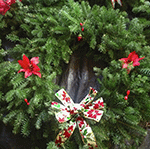 With over 250 acres of trees to choose from, Kelly, our Master Wreath Maker, takes pride in selecting only the finest brush necessary for creating Hand-Crafted Christmas wreaths which comply with our stringent standards of quality.
Our Wreaths are available undecorated, with a hand-tied bow, or fully decorated with a hand-tied bow, berries, real pine cones, and other holiday themed accessories.
Our wreaths are available at our retail lot from the day after Thanksgiving through December 23. For special order wreath requests, contact Kelly any time throughout the year.
Kelly also creates beautiful "Kissing Balls" (large spherical balsam globes) and Aromatic Balsam Sachets which are perfect for your home, vehicle, or as sure-to-be-appreciated stocking stuffers.