Our Trees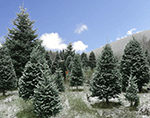 Uncle Steve's Christmas Tree Farm is loaded with premium Christmas trees and contains the finest Balsam Fir and Balsam-Fraser Fir Hybrids in the North Country.
Balsam Firs are native to the Northeast and are widely considered to be the "classic" Christmas tree. This species boasts several desirable properties: dark-green appearance; long-lasting needles; and attractive symmetrical shape. They also retain their pleasing fragrance throughout the holiday season.
Fraser Firs are renowned for their unique blue-green color and the ability of their branches to support heavy ornaments.
Balsam-Fraser Fir Hybrids exhibit favorable characteristics of both species. They exhibit a blue tint on the underside of the needles reminiscent of the Fraser Fir, and they also boast excellent needle retention, strong branches, and the treasured long-lasting Balsam Fir fragrance.
In order to guarantee you the best looking, highest quality trees, and to ensure that you will be truly satisfied with our product, Uncle Steve personally selects and tags each tree to be harvested.
By purchasing directly from our Christmas tree farm (instead of a middle-man Christmas tree broker), you are guaranteed the freshest possible product at a great price.
Unlike other Christmas tree growers, we will not begin to harvest your trees until November 15th or later (unless otherwise requested). However, the quantity of trees ready for harvest each year is limited, so call early to reserve your trees.